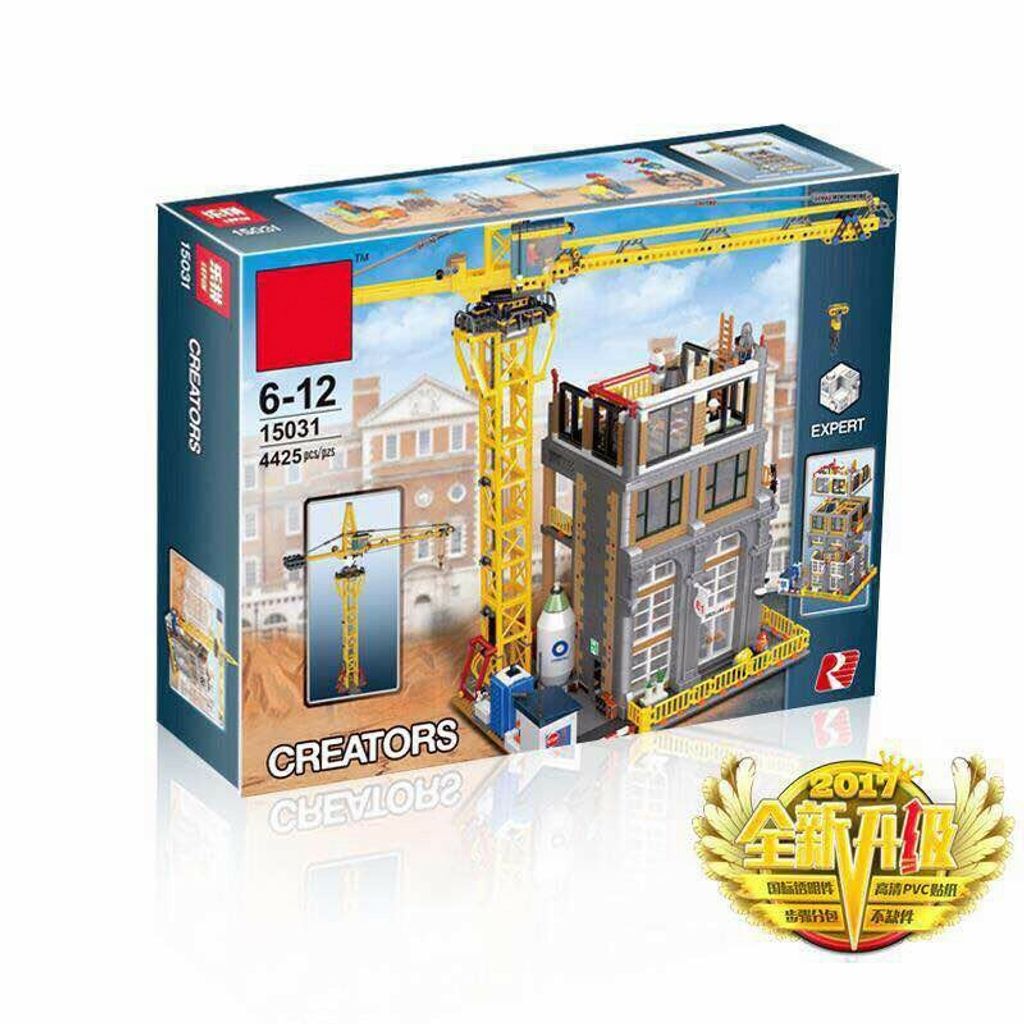 Lepin 15031 Construction Site
Shipping these from Asia. All are brand new in box which means lower risk of missing pieces compared to repacking done in China in large volume but will be shipping without box. Tracking available.
Lets put those collectable mini figures to work. Builders, Carpenters, Plumbers...
This is my third modular MOC, but the first I have submitted to Ideas. My aim was to raise the standard of build by analysing the strengths and weaknesses of the two I'd done before. I also aimed to increase PLAYABILITY and focus more on what the average Lego user 10-14yrs wants from a set like this. On top of this I wanted to keep in mind cost implications and whilst I was being more ambitious with the size of the build compared to my first two I wanted to set a 'brick count' and achieve the build within a target of 4200. Less than Tower Bridge 10214-1. The Final brick count was 4174.
I have designed within one of the strongest CORE themes within the LEGO world - Construction Sets, and avoided using material that would be subject to copyright / intellectual property.
It is fully 'cafe corner compatible'. The building yard can attach either side of the main building. The top floor 'under construction' can be removed to reveal the interior which will then hinge open to allow play inside. The crane is an update and redesign of 7905-1 and is fully functional.
The mini figures included are: crane driver, financier, architect, bricklayer, two glaziers, a painter, a tiler, and two labourers. There is a good mix of male and female figures with women occupying main roles (Architect & Crane driver) Plenty of room to bring in your Collectible mini figure Carpenter from series 13 and Plumber from series 9. On the top is the Welder from series 11.
I've tried to make it a challenging interesting build with plenty of S.N.O.T. (studs not on top) building on the buildings facade. There are lots of Lego Technic elements integral to the structure and the 1st floor stairwell is supported by Bionicle elements.
Lego sets should be played with in combination with other sets. The older 'town' sets embraced this much more than today with interconnecting baseplates and features that crossover. I wanted to feature a 'portaloo' and used the one featured in 60073-1 Service truck to encourage set integration and play. This Base plate / Connectivity is what people are enjoying about the CREATOR Modular Series.
I've tried to design and build with the following quote in mind; Parisian Café (2014) : "It is one of the first Modular Buildings to really evolve the concept to a new level of storytelling and detailing." – Jamie Berard, LEGO® Design Manager Specialist.
OTHER INFLUENCES. I often browse what other people are building and sometimes it informs my process. I make no secret of this. Much like the 'portaloo' is lifted from a Lego set (Service Truck 60073-1) there are other elements of the build that have roots in other ideas. The cement mixer used by the BRICKLAYER is from set 5610-1 (a small set from 2008 – now it has a home) I also came across some brilliant vignettes on LEGO IDEAS.
https://ideas.lego.com/projects/93366
Brilliant to use the shield as a trowel for the BRICKLAYER. I've lifted the idea for a carpenter's workstation and changed it a bit. I've created a workbench on the mezzanine floor inspired by this idea. Also the 'plate compactor' being used on the pavement is from 7746-1 from 2009.
The printed Elements were done for me by FAB Bricks UK.
---