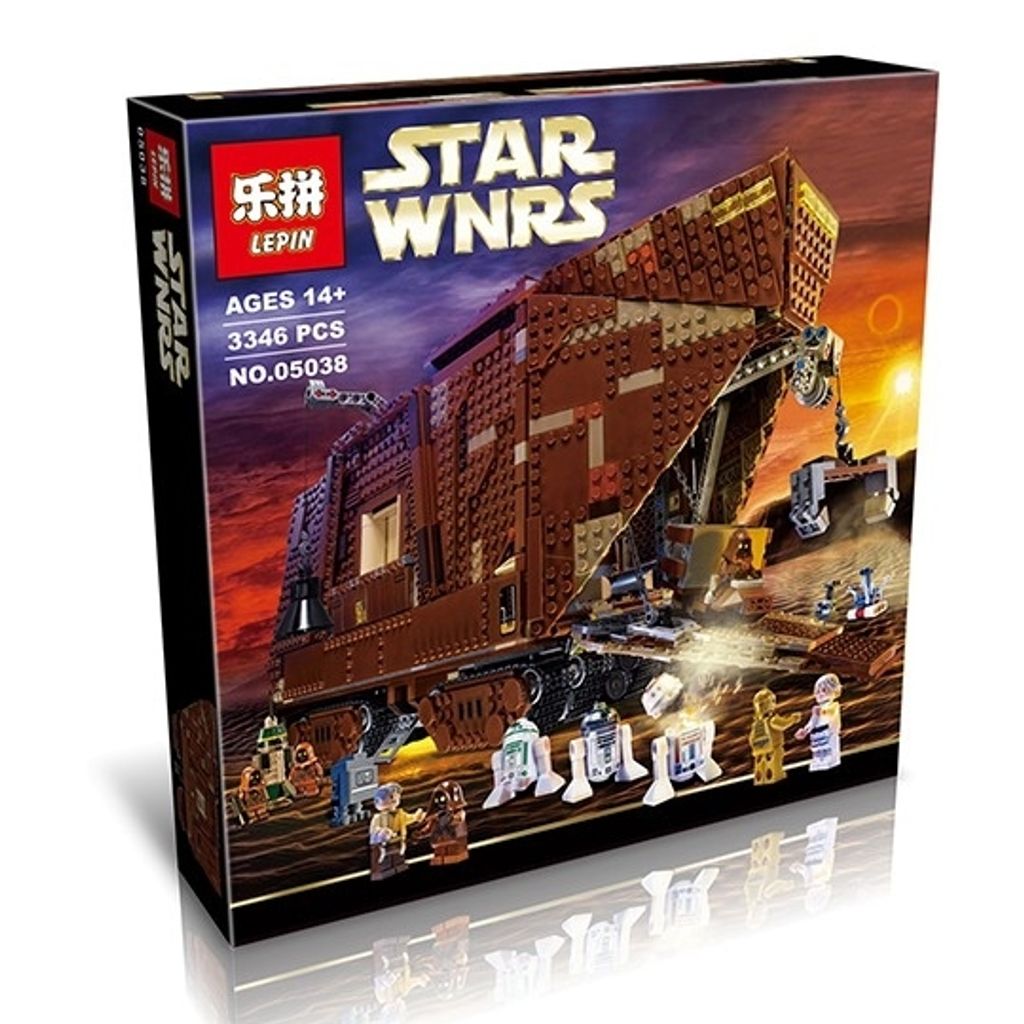 Lepin 05038 (75059) Sandcrawler
Shipping these from Asia. All are brand new in box which means lower risk of missing pieces compared to repacking done in China in large volume but will be shipping without box. Tracking available.
Collect a true icon of the classic Star Wars universe – the mighty Sandcrawler™!
Recreate unforgettable scenes from Star Wars: Episode IV A New Hope with this amazing Lepin incarnation of the Jawas' desert-going vehicle, the Sandcrawler. Turn the knob at the rear and steer the Sandcrawler into position, lower the front ramp and offload the droids using the 2 working cranes. Luke Skywalker and his Uncle, Owen Lars, are sure to be impressed with the selection on offer: there's R2-D2, an R1-series Droid, an R2 unit, R5-D4, a Treadwell Droid, Gonk Droid and even C-3PO. When the sale is complete, lift the side panels and top to reveal more great features inside, like the engine, storage bay, cockpit and more. There's even a speeder bike for when the Jawas need to venture outside.
Includes 7 minifigures: Luke Skywalker, Uncle Owen, C-3PO and 4 Jawas, plus R2-D2, R2 unit, an R1-series Droid, Gonk Droid, R5-D4 and a Treadwell Droid
Features 8 tracks with steering function, lowering front ramp, opening side flaps, removable top, working cranes, speeder bike, opening hatch for easy access to the boxes, attachable handles for lifting boxes, and a detailed interior including engine bay, storage bay and cockpit
Also includes stock for old droids and droid parts
Weapons include a lightsaber for Luke Skywalker
Sell droids to Luke and his Uncle
Keep your droids well maintained
Pretend to suck R2-D2 up into the Sandcrawler – just like in the movie!
Own your own iconic vehicle from the classic Star Wars universe
Relive classic moments from Star Wars: Episode IV A New Hope
Measures over 9" (24cm) high, 18" (48cm) long and 6" (16cm) wide